Music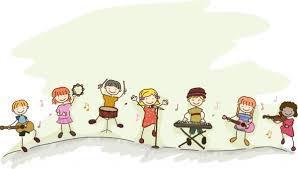 Due to us having split year groups, we have a rolling programme for music.
Rocksteady
Tom (from Rocksteady) comes into our school every Monday afternoon. He works with 4 groups of 8 children (who have signed up) to form 4 bands. Here are the bands performing their first concert at the end of the year!
At Copley Primary School, our music curriculum aims to help children feel they are musical and develop a life-long love of music.
At Copley, we focus on developing the skills, knowledge and understanding that children need to become confident performers, composers, and listeners. Our curriculum introduces children to music from all around the world and across generations, teaching children to respect and appreciate the music of all traditions and communities. Our curriculum follows a spiral curriculum model where previous skills and knowledge are returned to and built upon.
The music curriculum at Copley is underpinned by Kapow. This supports teachers knowledge and understanding when delivering the key concepts of the music curriculum as well as drawing on support from the Music Hub to provide whole class instrumental tuition.
Music is taught from EYFS to Year 6 and is built around a spiral progression to ensure skills are revisited and built upon each year.
We currently have the 'Copley Christmas Choir' on a Wednesday lunchtime. We are working towards performing at Broad Street Plaza in December.
Through Calderdale Music Trust, pupils can undertake music lessons on a whole host of instruments. These are private lessons that take place in school; parents agreed arrangement is with the Music Trust.
Contact can be made via admin@calderdalemusictrust.org.uk , https://ukcalderdale.speedadmin.dk/registration#/ (sign up on the website) or call 01422 401260 for further information.
Here is the KS2 Copley Choir singing at the Young Voices event at The Victoria Theatre in June.
Copley Christmas Choir
13.12.21 Our Christmas Choir performed outside the Thoughtful Spot in Skircoat Green.
15.12.21 Our Christmas Choir performed around the Christmas Tree on Broad Street Plaza! They were amazing.
Three Little Birds - Copley Primary School