NORTHDENE
TEACHER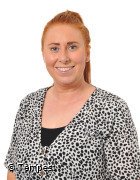 MRS SHACKLETON
Teacher profile
Name: Mrs Shackleton
Likes: Reading, family time and watching crime dramas
Dislikes: spiders!
Favourite film: Any Disney film and Harry Potter
Favourite book: All of the Harry Potter books
Favourite food: Chocolate, strawberries and Italian
Favourite subject: Art
If you weren't a teacher what would you be and why?
I love to be creative and sew so maybe a designer.
Who is your hero/heroine?
My Granny! She was the funniest, kindest and most honest person I've ever known! She taught me a lot.
MON-THURS
MRS SHACKLETON
FRIDAY
MRS ROBINS
SUPPORT STAFF
MRS HOULTON
Pleases see SeeSaw for all our up to date pictures and videos of what is happening in class! We love to share a glimpse into our world at school.