LYDBROOK
TEACHER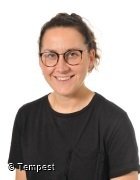 MRS SYKES
TEACHER PROFILE
Name: Mrs Sykes
Likes: Food, sport, my dog and our four new rescue chickens!
Dislikes: Being tired and being cold!
Hobbies: Exercise, eating out and walking my dog
Favourite film: The Sound of Music
Favourite book: Matilda
Favourite food: Everything!
Favourite subject: Literacy
If you weren't a teacher what would you be and why? A nutritionist or physiotherapist
Hero/Heroine: My Mum!
SUPPORT STAFF
Miss Broadbent, Mrs Sheard and Mrs Miller
Curriculum Overview 2023-2024
Letter for Parents Autumn 1
Please see SeeSaw for all our up to date pictures and videos of what is happening in class! We love to share a glimpse into our world at school.